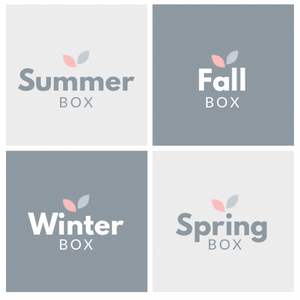 *Sizing is your t-shirt/sweater size for future product boxes when subscribing.

The Winter Box sweater is oversized and we recommend sizing one size down from your regular sweater size. It has a loose and flow-y fit through the torso.
What's Inside:
Each season we handpick the most beautiful and on trend pieces of clothing, accessories, home decor items, treats, and fun local products made and or sold by local Canadian businesses. You can expect 5-7  local products including a little something from our own Local Box Co line for you to enjoy.
WINTER BOX
- Heart's Desire non-toxic nail polish in one of their select pink/nude colour varieties
- Simple Pantry "The Works" caramel and chocolate chip cookie dough mix
- Tub Loves Macaron goats milk soap gift set
- Wool Fuzzies handmade toque in oatmeal with faux fur pom pom
- Our Rose Gold Copper Hammered moscow mule mug
- Our FIRST Local Box Co line Winter Collection high neck asymmetrical pullover in grey or white.
Benefits of Subscribing
Our boxes SELL OUT FAST! We limit our quantities to make it easier on the small local businesses we work with who need time to get your products ready. Subscribing means you never have to worry about missing out when we launch a seasonal box.
When you subscribe you also save $ on every seasonal box, and receive VIP discounts on our other online store products.

Your payment is automatically renewed each season.We release each seasonal box to be purchased by non-subscribers at full price later in the season, but only if there are boxes left over after subscriptions are fulfilled. There are always limited quantities. You'll LOVE opening your Local Box Co collection each season!