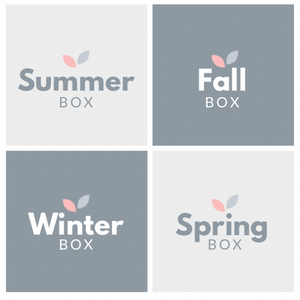 FALL BOX
It's Fall Y'all!  I love Fall and the hype around comfy cozy fall products. You can bet we're stocking the Fall Box with local products that give you that same feeling. There are a limited numbers of boxes, so now is your chance to snap one up before they are gone this season! Remember that the value of our product boxes always exceeds the price you pay!

Boxes will be shipped Wednesday Oct. 7th, ready for pick-up Thurs Oct. 8th & Friday Oct.9th, and local delivery Friday & Sat. Oct. 9th-10th. Canada wide shipping is available for the prices calculated at checkout.
*Sizing is your t-shirt/sweater size for future product boxes when subscribing
What's Inside:
- Sweater Weather T-shirt by Prescious Carnation
- Salted soft Caramels by Hugo and Nate
- Hand potted speckled clay mug by Pineapple Pottery
- Super soft plaid fall scraf by Local Box Co
- "Calm" blend essential oil roller by Sisu Naturals
- Hello Fall handmade wooden sign by Sew Rustic 
- Pumpkin Spice or Creme Caramel ground coffee by the Baden Coffee Company
Benefits of Subscribing
When you subscribe to our seasonal subscription boxes you save $5 on every seasonal box, and receive VIP discounts on our other products too including our special holiday boxes like Christmas and Mother's Day!

Your account is automatically renewed each season and you'll never have to worry about missing a box. We release each seasonal box to be purchased by non-subscribers at full price later in the season, but only if there are boxes left over after subscriptions are fulfilled. There are always limited quantities. Make sure you don't miss out on the great local products that we bring to you from our thoughtfully sourced vendors. You'll LOVE opening your Local Box Co collection each season!